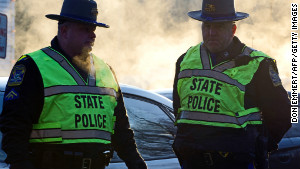 The deadly school shooting shattered the quiet of this southern New England town and left a nation reeling over the number of lives, particularly young lives lost. It also reignited the perennial debate about gun laws in America.
President Barack Obama spoke tearfully about the massacre on Friday and is scheduled to travel to Newtown on Sunday to meet with families of the victims. He will deliver remarks during an evening vigil.
Law enforcement officials have identified the gunman as 20-year-old Adam Lanza. He apparently took his own life, after taking that of his mother and the 26 people at the school.
Lanza was found dead next to three guns, a semi-automatic .223-caliber Bushmaster rifle and two pistols made by Glock and Sig Sauer, a law enforcement source told CNN. All belonged to his mother.
(By Susan Candiotti and Dana Ford, CNN, December 16, 2012 — Updated 0333 GMT (1133 HKT)
http://youtu.be/C36oJGw0HSU